Single User Licence
What is it?
A single user licence will allow you to edit a full class of up to 40 pupils.
A full year of use costs just £30 inc. VAT.
After you make your purchase you will automatically be sent a 'voucher code', use this to create your licence name and unlock the program.
Help with downloading, entering your voucher code, and using the program for the first time are at http://help.reportassist.com.
Your licence to use the program will last one year from the date you enter the voucher code.
Contact us if you need to share your account with another teacher.
How to purchase
We use PayPal as a payment gateway. You do not need to join PayPal in order to pay using your card...
1. Click the image below. If you have a PayPal account then login, pay and checkout as normal, if not then just click the 'Check Out as a Guest' button.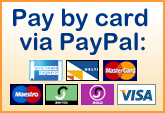 2. Fill in the credit/debit card form. Click 'Pay Now'.